"The Flame of Peace" at the Olympic Centre in Warsaw
On Saturday, 11th of May the "Flame of Peace Relay for the 2nd European Games Minsk 2019 organized by MEGOC reached Warsaw. The Flame was lit in Rome on 3rd of May at the Ceremony in the Ara Pacis to mark 50 days until the Opening ceremony in the capital city of Belarus. The flame travels by car around the Old Continent accompanied by the motorcade of Belarusian bikers from Minsk.
On Saturday the relay and guests were welcomed at John Paull II Olympic Centre. The torches lit from the special lamp were carried to the Olympic Centre by three torch bearers: journalist from Minsk Viktor Korbut and two athletes from "Team Orlen" Martyna Dąbrowska and Aleksandra Gaworska (athletics, 400 m). Close to the gallery of Polish Olympic champions located in the foyer we lit the "Polish lamp" that will be kept at the Olympic Centre for two weeks and on Saturday, May 25th, will be presented at the 21st Olympic Picnic dedicated to the promotion of the 2nd European games Minsk 2019.
Mr. Siarhey Khomich, Director of Ceremonies and Cultural program Department of MEGOC informed the participants, among them Polish athletes and Olympic medal winners, members of the NOC of Poland Board, Presidents of Polish sports Federations, media, about the event and the relay.
The Ambassador of the republic of Belarus in Poland Mr. Vladimir Chushev emphasized that the flame carried by the relay around Europe symbolized the ideals of peace and competition in the spirit of fair play. He assured that his countries had done its best to make all the athletes, coaches and visitor feel in Minsk at home and that all the competitions would be organized at modern and well prepared sport venues.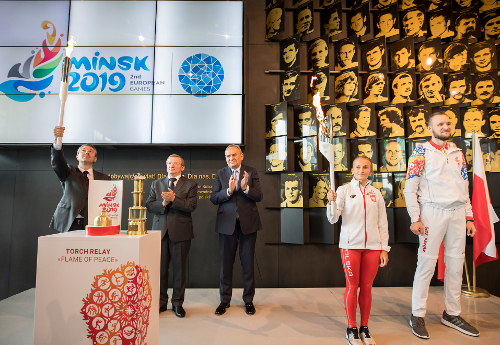 The Polish Olympic Committee President Mr. Andrzej Kraśnicki confirmed that the Polish sport treated the event in Minsk very seriously, as at the European Games many athletes could qualify directly or win ranking points for the Games of XXXII Olympiad Tokyo 2020.
The ceremony at the Olympic Centre was completed with a short presentation of Lesik, nice and joyfull fox, the mascot of the 2nd European Games.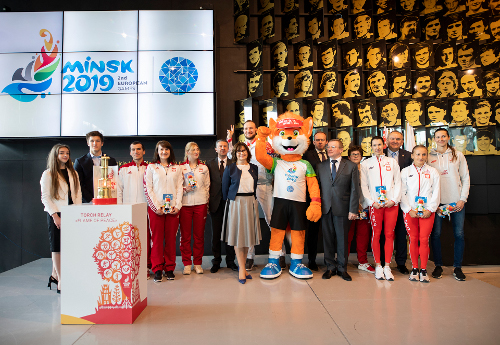 The relay with the "Flame of Peace" left Warsaw to the border with Belarus where on June 21st will reach the Dinamo Stadium at the Opening Ceremony of the 2nd European Games Minsk 2019.

www.olimpijski.pl
photo: Szymon Sikora/POC